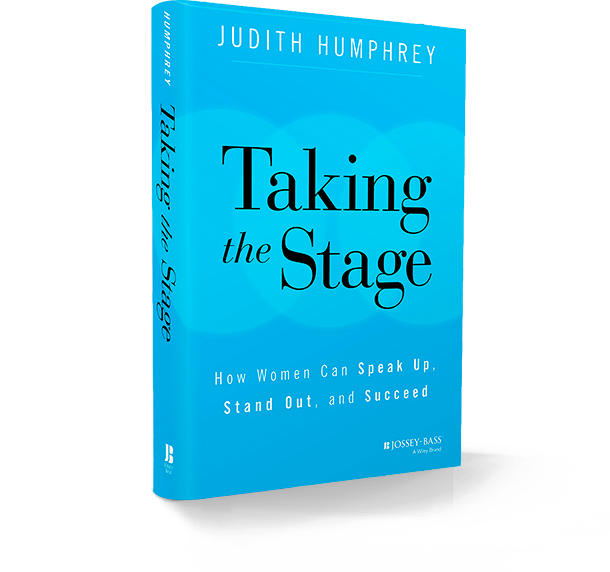 TAKING THE STAGE: (Jossey-Bass, 2014)
HOW WOMEN CAN SPEAK UP, STAND OUT, AND SUCCEED
This book shows women how to communicate with courage and confidence in every situation. It is full of real-life examples that show readers how to make the most of every opportunity to have their voices heard. Specifically, it shows women how to:
Adopt a taking the stage mindset
Speak up confidently, even when others don't agree
Convey their accomplishments without self-doubt
Be assertive, not aggressive
Deliver clear and convincing messages
Script themselves for success
Move beyond minimizing language and apology
Find their own powerful and authentic voice
Achieve confident body language and presence.
By applying these techniques to every communication, women will be recognized as leaders and attain positions of influence. This book is for women at all levels and for managers and executives committed to supporting women on their leadership journey.
---
EXCERPT FROM TAKING THE STAGE
"I've written this book so women can find their own strong voices, seize new opportunities to lead, and advance their careers. . . . Taking the Stage puts forth a compelling strategy for reversing traditional female socialization, thereby helping us become more comfortable in the spotlight.
It will show you how to take your rightful place on the corporate stage to advance yourself and your ideas.
The Humphrey Group's work with tens of thousands of women for more than twenty five years has given us a powerful source of insight that has shaped our assumptions about how women communicate in business and beyond."
---
WHAT PEOPLE SAY ABOUT TAKING THE STAGE
"Speaking with strength and confidence is a vital skill for both men and women. Judith Humphrey's book, Taking the Stage, is a must-read for women who wish to achieve this goal."
–Elyse Allan, president and CEO, GE Canada
"Judith Humphrey puts forward important ideas that are necessary for women's advancement, and Taking the Stage includes a set of clear guidelines for individual change. This is a welcome first step in the shift from a 'fitting in' male model to an 'organizational fit,' male-and-female model where both leadership styles are valued and rewarded."
–Judy B. Rosener, professor emerita, Paul Merage School of Business, University of California, Irvine, and author, America's Competitive Secret: Women Managers
"I have brought Judith Humphrey's brilliant program "Taking the Stage" into three companies on five continents. The results have been extraordinary. Women all over the world have discovered—as readers will—how to express themselves with courage and confidence, whether on the shop floor or in the executive suite."
–Kate Bishop, executive vice president, HR (Europe), CEVA Logistics
---
ARTICLES, INTERVIEWS, AND REVIEWS OF TAKING THE STAGE