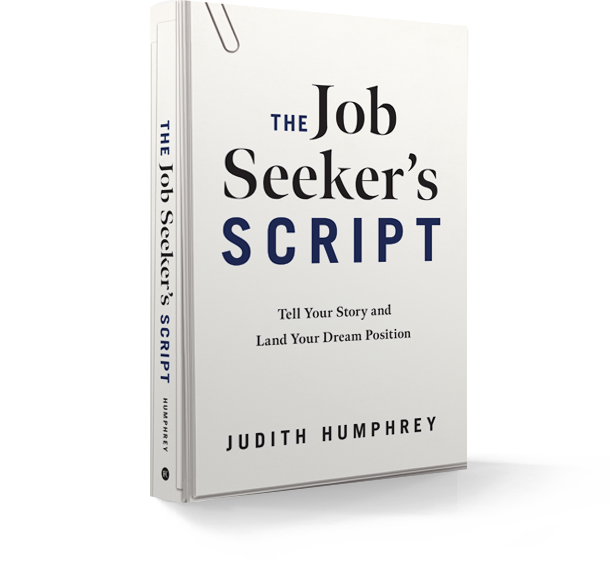 THE JOB SEEKER'S SCRIPT (Fast Company Press, 2023)
TELL YOUR STORY AND LAND YOUR DREAM POSITION
This book will show you how to create scripts that position you successfully at every stage in your job search.
It will enable you to:
Build a compelling narrative about yourself
Decide how to project a strong "character"

 

Know how to prepare for each event
Master the elevator conversation
Network like a pro, knowing exactly what to say
Design a resume that has others saying "WOW"
Write awesome thank you notes

 

Ace every interview by telling your story well

 

Use all these skills in the job you are sure to land.
Your job search is an opportunity to tell your story. Tell it well and you'll win people over and land the job you want.
---
ACCLAIM FOR THE JOB SEEKER'S SCRIPT
"The Job Seeker's Script is an invaluable tool for anyone looking for a job at any level. For years, Judith Humphrey has written some of Fast Company's most popular advice for job candidates, and now she's compiled all her guidance, along with exactly what you need to say (and how to say it), to get the career you want. This is the book I wish I had when I was looking for a job!"
– Kathleen Davis, deputy editor, Fast Company, host of The New Way We Work podcast
"Judith Humphrey helped me with my communications style two decades ago, and I still remember our sessions vividly and benefit from those learnings every day. She focuses on key strengths, gives tactical tips to address gaps, and then helps build captivating stories that are designed for specific audiences. Now job seekers can gain those same insights from Judith in this specially tailored book that has scripts for every stage of the job-seeking journey. If you want to secure a new position and build a strong career trajectory, The Job Seeker's Script will give you confidence, a unique story, and a differentiated value proposition that will impress your future employers."
– Joanne Shoveller, president and vice chancellor, International Business University
"Whether you're a newly minted graduate or a seasoned job seeker, you'll find this book extraordinarily useful. The Job Seeker's Script shows you how to communicate the value you will bring to a hiring organization throughout your job search. The ability to put forward your skills, accomplishments, and background in an inspiring way is often the greatest challenge for job seekers, and readers will discover how to create and deliver the right messaging to get hired."
– Jodyi Wren, interim assistant dean, executive director, and assistant vice provost for Career Education Initiatives, Gwen M. Greene Center for Career Education and Connections, University of Rochester
"I can vouch for the brilliance of this book from personal experience. Judith Humphrey has been my communications coach, and she taught me how to script myself for every meeting and every interview. As a result, I've gone into each encounter confidently knowing exactly how to 'tell my story.' This has made all the difference and has enabled me to build a successful career. Readers of the book will find the same success."
– Adeola Adebayo, senior managing director, Sustainable Investments, Canada Life
"The Job Seeker's Script offers superb advice: tell your story well. As the head of an executive recruiting firm, I ask candidates about their story: what they've learned, why they made the moves they made, how they've accomplished things, why they left certain jobs, and even why they made certain ethical decisions. Judith Humphrey's inspiring book equips readers to script themselves for every encounter with a standout narrative. I highly recommend it to all job candidates."
– Jay Rosenzweig, founder and CEO, Rozenzweig & Company, "Building the Leadership Teams of Tomorrow"
"In a crowded field of advice, The Job Seeker's Script stands out. When I talk to candidates at all levels, sometimes their pitches don't come across as authentic. This important and well-crafted book explains how to put a genuine pitch together, what the key elements are, and how to make sure it comes from your core, your heart. That gets my attention and keeps these job seekers top of mind."
– Amanda Luthra, senior freelance recruiter
"This book is a treasure. The author, Judith Humphrey, coached me on its lessons. As a result, I aced my med school interviews and received a fellowship at the University of Toronto Medical School. I'm now an MD and a Specialist! Want a successful career? Buy the book!"
– Robert Mitchell, MD, Fraser Hospital, British Columbia
"Judith Humphrey's new book, The Job Seeker's Script, is a must read for any job seeker, whether you are seeking your first post-college job, a seeker due to a recent downsizing, changing companies, or wanting to move within the company. She presents clear-eyed tested strategies to help you prepare for one of the most important actions you will take in your career, the dreaded job interview, which it doesn't have to be if you follow her tactics. It does not matter whether you are interviewing for the top job at your college's newspaper or with Apple's CEO Tim Cook, who by the way seeks job candidates who "won't accept the status quo, people who aren't satisfied with the way things are," you will be prepared if you follow her approach, which is to tell your story, to show how you should be the one hired."
– Charles F.
"Story telling is very important. When looking for a job, you need to land a good story about what and who you are and describe the values you can bring to an organization. Interesting book with practical examples, tips and suggestions that can suit any level of job seekers and make him/her a remarkable candidate."
– Darya Y.
"The book is pretty phenomenal. It described the standard hiring questions used by female CEOs, including Indra Nooyi, Mary Barra, and Sara Blakely. Sara is the founder of Spanx, so she has filled the CEO spot with qualified people. It matters to her not just that they can do the job but that they are likeable people."
– Reviewer 259666
"What a great book for advice on how to present yourself for everything from conversations and networking to pitches and interviews. Practical, clear and easy to read, this book is a must for anyone looking to strengthen their confidence and presence."
– Educator 364311